This week on my poker radio show, The Final Table, Dennis Phillips and I talked with Darvin Moon, the logger from western Maryland who became a multi-millionaire by finishing 2nd in this year's World Series Of Poker Main Event.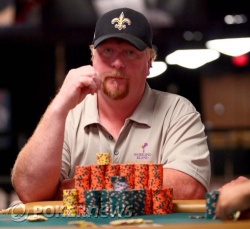 We talked about a couple of famous hands he played in that tournament, including what was going through his head when he and Billy Kopp were the two chip leaders and Kopp moved all in with a small diamond flush and Darvin called with a bigger flush. The other one involved Darvin making a laydown with king-queen against Steven Begleiter's ace-queen, but then telling his wife that he had two queens! That raised a lot of eyebrows — and so will Darvin's controversial explanation on our show of why he said what he said.
From there we got into Darvin's heads-up play vs. eventual winner Joe Cada, whether the long hours of the main event ever got to him, whether he'll play any other big tournaments in the near future, and much more.
For our strategy segment, a listener emailed us about a hand he'd played in the Main Event and wanted some analysis of his decisions, so we called upon Joe "The Poker Coach" McGowan to dissect it, street by street (if you have a hand you'd like us to discuss, send it here). And Dennis talked about being at an event over the weekend for Albert Pujols' charity foundation, with some amazing guests and auction items.
Listen, then click here to subscribe to these podcasts via iTunes!