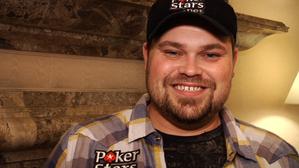 This week on the Final Table radio show, Dennis Phillips and I talked with Jason Senti, the short stack of this year's WSOP Main Event November Nine.
We talked about how he played to stay alive when there ten players left, including folding a big over-pair that he's sure he'll be mocked for when it airs on ESPN (their coverage of the Main Event begins this evening and continues every week until Senti and the others play their final table in November).
Dennis and I also discussed:
a former stockbrocker who confessed to financial fraud and is being allowed to play poker to get money to compensate his victims and keep himself out of jail;
Kathy Leibert and Jennifer Harman being inducted into the Women In Poker Hall of Fame;
how the predicted Year Of The Woman at the WSOP turned out to be a bust;
the return of "The Big Game" on TV, where a millionaire businessman may be the real loose cannon at the table;
why Phil Hellmuth and Robert Williamson III should stick to poker instead of TV trivia shows
Listen, then click here to subscribe to these podcasts via iTunes!