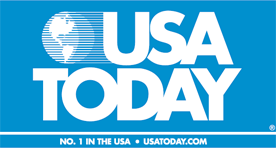 To read part one of this column, click here.


The other media brand that recently resurfaced on my desktop is USA Today, when I saw a news item about the death Friday of its founder, Al Neuharth.
Unlike AOL, I knew USA Today was still around, because I travel fairly often, and most hotels still plop "The Nation's Newspaper" in front of the room each morning. Unless I'm on the road, I never see it, nor do I check it online — despite my admiration for some very talented writers who have been at USAT for a long time, like sports columnist Christine Brennan and music columnist Edna Gunderson. It's just off my media radar.
However, I remember when USA Today first appeared in 1982. With its colorful look and its concise storytelling, it seemed like someone had decided to create the ultimate show-prep paper for radio personalities. In its earliest years, you could turn on any morning show in America and hear all of us doing the same stories, taken directly from the pages of USA Today. In the pre-internet age, it was the first portal we had to what was happening in other towns, including the late night sports scores that our local papers never had because their deadlines were too early. Plus USAT had that purple Life section, written as if it were just for us.
In 1987, while doing mornings at WCXR/Washington, I'd had Edna as a guest several times, and she finagled an invitation for me and my crew to do our show from the brand new USA Today radio studio in the Gannett Building in Rosslyn, Virginia. Newsman John Ogle and I were awed by the 27th-floor view overlooking the Potomac River, the monuments, and the rest of downtown DC, as various writers and editors stopped by to join us on the air. They even made a special director's chair for each of us with their logo on the front and our call letters on the back, a memento I still have in my basement.
It was such a positive experience that I proposed a business deal with them. Since the newspaper wasn't taking full advantage of the radio studio — it was only on occasion that a writer stepped into the booth to record an interview — I suggested that I set up visits from radio stations around the country. I knew that there were other morning shows who would enjoy the experience as much as I had, having access to a fully-equipped studio and ready-for-air guests, at no cost, in exchange for a morning full of promotion for the USA Today brand. It seemed like a no-brainer to me and to the mid-level management person I proposed it to, but once it got above that, the idea died in the paper's bureaucracy and, to my knowledge, that radio studio was never used to full advantage.
A year later, however, that floor of the Gannett Building was re-built into a larger broadcast facility, when it became the home of the syndicated "USA Today: The Television Show." Despite huge amounts of money, the leadership of TV veteran Grant Tinker, and a talented staff — including my wife, an associate producer, and me, a contributor to its weekend edition — the show never got off the ground, with less-than-prime clearances in too many markets, lasting a mere 18 months.
My wife and I have two lasting memories from that show, though. One was that the Gannett Building was very close to the flight path of planes landing at National Airport. On approach, they'd swoop down the Potomac, and by the time they got to Rosslyn, they were on final approach. From her desk, it seemed she could reach out and touch the jets as they passed so close to those 27th-floor windows. The other memory was of watching the July 4th fireworks on the National Mall from that vantage point, an amazing view.
That USA Today TV show is long forgotten, the newspaper no longer occupies that building, and it's been at least a decade since anyone received an AOL floppy disk in the mail. I can't help but wonder how long it will be until I write a similar column about Facebook and Twitter.