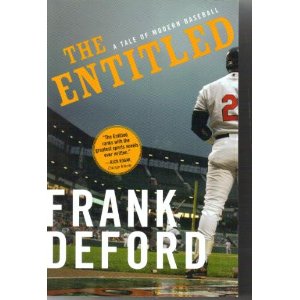 Frank DeFord was on my show this afternoon, discussing his new book "The Entitled," a tale of modern baseball.
As a longtime admirer of DeFord's work (particularly in Sports Illustrated), it was a pleasure to talk with him about baseball battles between managers and millionaire athletes, why the steroids scandal hasn't affected ballpark attendance, whether NFL commissioner Roger Goodell handled the Bill Bellichek spying story correctly, and more.
I also asked DeFord whether he was happy with the movie version of his football novel, "Everybody's All-American," and whether he thought about how his new book would look as a screenplay. And I had DeFord explain why his 1990-91 attempt at a national daily sports newspaper (The National, which I was a fan of) failed, despite being full of really good writing.
That's only about half of what we talked about. For more, listen to our conversation.