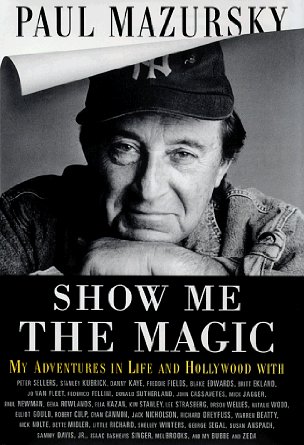 Paul Mazursky was honored Saturday with a spot on the Hollywood Walk Of Fame. The five-time Oscar nominee, now 83, wrote and directed such classics as "Bob and Carol and Ted and Alice," "An Unmarried Woman," "Moon Over Parador," "Next Stop Greenwich Village," and "Moscow On The Hudson."
In 1999, Mazursky did a book tour for his autobiography, "Show Me The Magic," and stopped by to spend a half-hour in the studio with me. Among the things we discussed:
making "Down and Out in Beverly Hills" with stars whose careers were in a lull at the time — Bette Midler, Richard Dreyfuss, and Nick Nolte — as well as problems on the set with Little Richard;
how difficult it was to convince a studio to let him make "Harry and Tonto," which won an Oscar for Art Carney (who thought he was too young for the role);
how he directed Robin Williams and cast Maria Conchita Alonso in "Moscow On The Hudson";
stories about Jack Nicholson, Warren Beatty, Peter Sellers, Natalie Wood, and Dyan Cannon.
I have dug that interview out of my archives and was surprised to discover I have never posted it here, because it was one of my favorites of all time. Listen, then click here to subscribe to these podcasts via iTunes!