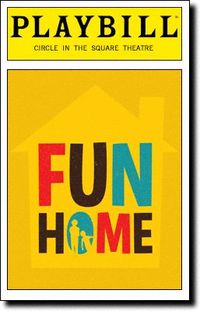 Yesterday, I gave a rave review to a Broadway show I saw last week, "The Curious Incident of the Dog in the Night-time." Here's another…

My first exposure to "Fun Home" was on this year's Tonys telecast, when a young actress named Sydney Lucas performed the show-stopping "Ring Of Keys." If the purpose of the Tonys is to sell tickets, this one worked, because the next day, I bought seats to see the show with my mother and daughter, and we went last week.
"Fun Home" is the first musical with a lesbian protagonist, Alison Bechdel, a real-life cartoonist who, in 2006, wrote a graphic memoir in which she looked back at her childhood and, in particular, her relationship with her father, Bruce. He was an English teacher who also ran the family business, a funeral home (thus "fun home"), and was a very demanding dad. The play is filled with Alison's memories of discovering that Bruce was secretly gay and had affairs with several young men before committing suicide — just a few months after she realized that she, too, was homosexual.
While that may seem dark for a musical, "Fun Home" tells the story with plenty of laughs and emotion. We see Alison at three distinct points in her life — as a nine-year-old girl, as a college freshman, and as a 43-year-old adult still searching for answers about her father and her youth — and all three actresses (Beth Malone, Emily Skeggs, and Gabriella Pizzolo) were spot on in their performances. Pizzolo, who was Lucas' understudy, has just taken over the roll of Small Alison and is a great replacement.
I hadn't been in the Circle In The Square theater since seeing Jim Dale's remarkable performance in "Scapino" in 1974 (there's a show that's overdue for a revival!), but having "Fun Home" in that space made it even more intimate, with the audience so close we couldn't help but be drawn into the family. Unlike other musicals, "Fun Home" has its small 7-piece orchestra on the stage, as if they're playing in the next room of the house where most of the action takes place. While the actors don't acknowledge the musicians during the show, there's an extra synergy having them right there.
The show, adapted from Bechdel's memoir by Lisa Kron and Jeanine Tesori, isn't told in linear fashion, because memories don't work like that. Thus, we see the adult Alison onstage observing and sketching things she remembers from decades ago as they're acted out for us.
Along with "Ring Of Keys," there are a couple of other standout musical numbers. One is an amusing scene in which Small Alison and her brothers pretend to do a wacky TV commercial for the funeral home ("Come to The Fun Home"). Another is when Middle Alison gets out of bed the morning after her first lesbian sexual encounter to pronounce, "I'm Changing My Major To Joan!"
"Fun Home" went on to win the 2015 Tony for Best Musical, and it's easy to see why. It's an extraordinary piece of theater.