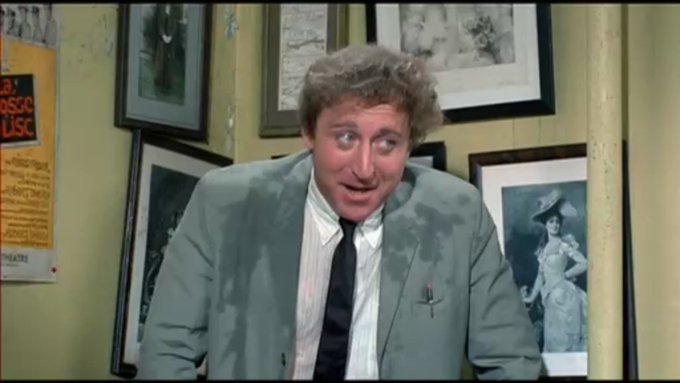 I was saddened by the news today of Gene Wilder's death at 83 due to complications from Alzheimer's disease.
Most obits will, of course, mention his great performances in "Blazing Saddles," "Young Frankenstein," and "Willy Wonka and the Chocolate Factory." They might even mention the beginning of his partnership with Richard Pryor in "Silver Streak."
But in remembering Wilder, my mind is full of his scenes as Leo Bloom in "The Producers," particularly the early ones where he first encounters Zero Mostel as Max Bialystock. Zero could blow people off the screen with the size of his performance as a blustery Broadway producer, but Wilder stayed right with him by playing his opposite, a meek accountant. Nobody played hysterical, wet pain better than Gene Wilder.
I'm also thinking about Wilder's small role in "Bonnie and Clyde" as a mortician kidnapped by the bank robbers. It's a backseat role, literally, but Wilder stood out in a cast that included Warren Beatty, Faye Dunaway, Gene Hackman, Estelle Parsons, and Michael J. Pollard.
The other Wilder comedy I remember fondly (which not enough people have seen) is "The Frisco Kid," in which he plays a Polish rabbi who has come to America to oversee a Jewish community in San Francisco — but he has to get there first, and that involves a cross-country trip mostly accompanied by Harrison Ford as a cowboy. The interplay in their scenes, on horseback by day and at campsites by night, was as good as any comedy duo you can name.
I would have loved to talk with Wilder about those movies and so much more, but I never got the chance because he didn't do a lot of interviews. One of the rare ones took place about 3 years ago at the 92nd Street Y in New York, with Robert Osborne asking the questions. As you'll see, Wilder told wonderful stories, even if they were slowed by the advancing disease that eventually took his life…