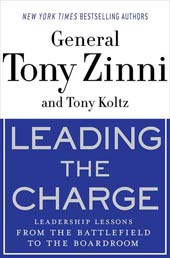 Tony Zinni is a retired four-star Marine general who served as commander-in-chief of Centcom. He was also one of the first to warn of the dangers of terrorism coming out of Afghanistan pre-9/11, and then opposed the invasion of Iraq.
Today on KTRS/St. Louis, I talked to Gen. Zinni about the political battle over whether we should keep our troops in Afghanistan and Iraq, and if so, how to accomplish the mission there. We also talked about the private contractors who form the invisible armed force that equals our regular military presence in those countries, and the scandal involving the inappropriate behavior by some of those private security guards at the US Embassy in Kabul.
We also discussed a breaking story, the objection by Defense Secretary Robert Gates to the Associated Press regarding their publication of a photo of a mortally wounded 21-year-old Marine lance corporal named Josh Bernard, despite a request by Josh's father not to do so.
Then we dove into Gen. Zinni's book, "Leading The Charge: Leadership Lessons From The Battlefield To The Boardroom."
Listen, then click here to subscribe to these podcasts via iTunes!