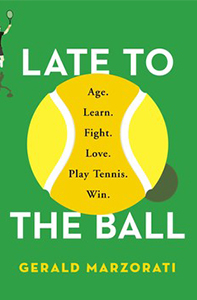 In his late fifties, after many years as a newspaper editor, Gerry Marzorati decided to take up tennis. When he passed sixty, he decided to take it even more seriously and try to play serious, competitive tennis. That led to lessons from tennis gurus and matches against much more experienced players. It also formed the basis of his book, "Late To The Ball."
When I talked to him about it, we covered the pain of the game at that age, whether there's money in seniors tennis, and how his skills increased while those of other players who had been at it for decades decreased. We also discussed Serena Williams' place in tennis history, why the US doesn't have men among the top players in the world, and the difference between playing on grass, clay, and hard courts.
Listen, then click here to subscribe to these podcasts via iTunes!