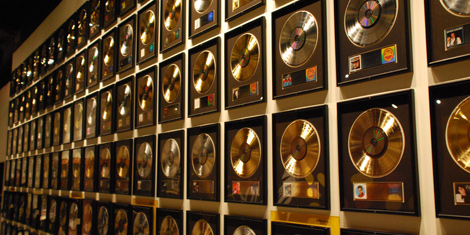 Do musicians still get gold records?
For decades, if you sold half a million units of a song or album (across all distribution formats), you'd be presented a framed version of your album cover and vinyl record. There was also a platinum record for a million units, and a diamond record for ten million units. The music companies would hand these out not only to the band members, but also to high-powered executives, radio station programmers, and others associated with an album's success.
But since vinyl is now just an after-thought, with the vast majority of music being distributed digitally through downloads and streaming, do those milestone prizes and presentations still occur? The RIAA, which certifies music sales, does still have those award programs, but I wonder if there's still a physical, framed award handed out.
Interesting side note: my friend James Randi was given a gold record for his work on Alice Cooper's "Billion Dollar Babies" tour in 1973-4. When he showed it to me, I asked why the number of tracks on the vinyl record (4) did not match the number of song titles listed on the label (5). He explained that the record company wasn't going to take a copy of a valuable album like Alice's out of circulation when it could simply pick a title by one its other artists that wasn't selling at all, spray-paint it gold, put an Alice Cooper label on it, and stick it in the frame.