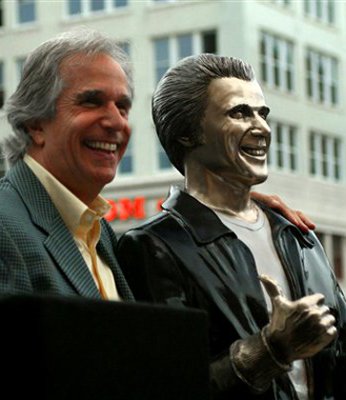 Henry Winkler will always be known for his long run as The Fonz on "Happy Days," but his career also includes movies like "Night Shift," "The One and Only," "Click," "The Waterboy." He has produced such series as "Macgyver," "Hollywood Squares," and a couple of "Dallas" reunions. He's written some 20 books for kids, including the very popular Hank Zipzer series. In recent years, he's been a cast member of "Children's Hospital" on Cartoon Network's Adult Swim block, and had recurring roles on "Royal Pains" and "Hero Factory."
This weekend, he's appearing at the Wizard World Comic Con at America's Center – first of its kind in St. Louis! — so he joined me on my KTRS show to discuss:
Returning with the rest of the cast of "Arrested Development" for a new season on Netflix;
Why he decided to play against type in "Night Shift" and let Michael Keaton have the break-out role;
His motorcycle connection with Steve McQueen in "The Great Escape";
What he wants from a director on a television series or movie set;
How he directed showbiz legend Alan King in "Memories Of Me";
Response he's gotten from dyslexic kids about his series of Hank Zipzer books.
Listen, then click here to subscribe to these podcasts via iTunes!