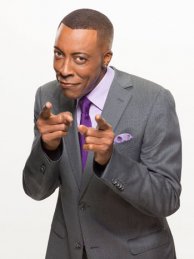 I want to like Arsenio Hall. He can be personable and funny, but his return to late night television is already disappointing. I try not to judge anyone on the basis of their debut, so I've waited until seeing two of Arsenio's new shows to arrive at the conclusion that it's not working.
Actually, it would probably have been fair to judge him after Monday night alone, considering this wasn't his first late night dance — the guy did the job for five years (1989-94) and hasn't changed the formula one bit. That's the problem. Moreover, the writing has been incredibly lame, which is bad news for a staff that had weeks to work up some special material for Arsenio's re-premiere.
The late night landscape is different than what it was when he went off the air 19 years ago. There are now so many shows on so many networks that Arsenio has to be truly great to get people to tune away from the others. I find myself deciding which shows to watch — scratch the word "watch" and replace it with "record" — based not on who the hosts are, but who the guests are, and Arsenio's staff will have to book some very interesting people to sit in his cushy chairs to get me to set the DVR for his hour. It's not enough to be yet another host with yet another couch and yet another house band.
He'll also have to make the show less black. I don't mean that I won't watch a black host and/or black guests. But Arsenio seems to be going out of his way to make his new show race-oriented, and not in a good way. Monday night in his monologue, he joked that only a black man would not show up for work for 19 years and still expect his job to be waiting for him when he comes back. Not only is that not funny, but why would he want to perpetuate that stereotype? On his second night, he ran a recorded piece where he went around the office checking to see if every staff member had enough "soul," and if they came off as too white, they were "fired." Also not funny.
For Arsenio to succeed in syndication, he'll need a broad audience of both black and white viewers. If he alienates the latter, he'll have no chance. Ellen DeGeneres did not get to be as popular as she is by making her lesbianism the ongoing theme of her talk show. George Lopez didn't do Latino stereotype jokes every night (actually, he did, which is one of the reasons his show is no longer on the air).
Arsenio also has to recognize that:
no one cares that he's friends with Eddie Murphy and Magic Johnson;
what he did on TV 19 years ago is irrelevant today;
a "surprise" appearance by Paula Abdul does not qualify as a "big get";
Chris Tucker doesn't get booked on other shows not because he's black, but because he's a terrible guest;
bad prop comedy (like his opening night bit about items from his 1994 time capsule) is better left in the hands of Carrot Top;
sitting with Snoop Dog/Lion/Giraffe and making pot jokes has not only gotten old, but has been done to death when Snoop appeared with Jimmy Kimmel and Jimmy Fallon — multiple times.
Those two names bring up another point. Both Jimmys (Jimmies?) understand the value of social media and incorporate it into their shows almost every night. Witness Monday's reveal of Kimmel's fiery twerk fail viral video that pranked the entire internet, or Fallon's musical-parody segments that get tons of exposure on YouTube. Arsenio seems to be making no effort in that regard — a critical error for a modern TV talk show.
One last point, and it's about Arsenio's competition. While it's standard procedure for talk shows to feature celebs promoting shows on other networks, it seemed odd to me that David Letterman had Arsenio as his prime guest last Friday and that Jay Leno appeared in the opening sketch on Arsenio's first show! This is their direct competition — why would they help him draw viewers away from their own shows?
This is so alien to me because it would never occur in my medium, radio. In all the years on the air, I've never considered interviewing the new morning guy on Z107 or the new afternoon team on Buzz Radio. Hell, I can't even get promotion from the radio stations my own show is on!
The only time I've done anything close to that was in the late eighties, when I was the morning man on WCXR, the classic rock station in Washington, DC. The Hard Rock Cafe was about to open a franchise downtown, and they invited me and my team to do our show from that venue. Someone with a sense of humor also invited Dennis Owens, the legendary morning guy at WGMS, the classical music station, to do his show from there on the same day.
He agreed, then called me with a suggestion: I should wear a tuxedo, and he would wear a leather biker's jacket and jeans. Though I'd never spoken to Dennis before, I thought it was a terrific idea, and we both had a great time that morning on our respective shows, and in a couple of crossover segments where we appeared on each other's show for a few minutes. Dennis made me introduce a concerto by some hard-to-pronounce Russian composer (nailed it!) and I had him talk about the lasting appeal of Led Zeppelin. We capped the thing off at 10am by going outside and christening the Hard Rock's new venue by smashing acoustic guitars into the front wall, Pete Townshend-style.
It worked because of the juxtaposition of formats — Dennis and I didn't play any of the same music, discuss any of the same topics, or share any of the same audience, so it wasn't like I had done a cross-promotion with a direct competitor whose audience might start listening to him instead of me.
But Arsenio, Dave, and Jay do compete directly. Maybe they agreed to it because Jay's losing "The Tonight Show" again in five months and feels no loyalty to NBC, and Dave's been around and had the clutch in for so long that he just doesn't care about much anymore.
Or maybe they're both savvy enough to recognize that Arsenio's time came and went two decades ago, and this attempt at grabbing the brass ring a second time — in a much more crowded marketplace — isn't much of a threat after all.
Addendum: Arsenio got a huge curiosity tune-in rating Monday night, but the numbers dropped 30% Tuesday night.