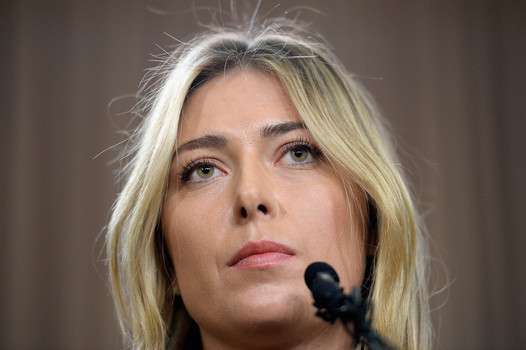 In 2003, my wife and daughter and I went to Forest Park to see a St. Louis Aces tennis match. One of the players on the other team was a tall blonde teenager with a sizzling serve and a Monica Seles-inspired grunt that echoed off the nearby trees. Every single spectator took note of her name — Maria Sharapova. The next year, she won Wimbledon and soon began doing commercial endorsements that would, in addition to her tennis winnings, bring her more than $20 million a year.
Earlier this week, Sharapova held a surprise press conference to announce that results had just come in from a test she'd taken during the Australian Open in January, showing she had tested positive for a drug that's on the banned list. She claimed she'd been taking the drug for almost a decade and didn't know it had recently been added to the World Anti-Doping Agency's list. She faces a possible four-year ban, which would be a shame because she is still one of the best tennis players in the world and a pleasure to watch on the court.
While I have no idea what the truth of the matter is, I am as impressed by the way Sharapova handled it as I was watching her on the court 13 years ago. Unlike some athletes whose first act is to deny, deny, deny (e.g. Lance Armstrong), Sharapova got out ahead of the story by admitting her mistake. She deserves credit for that.