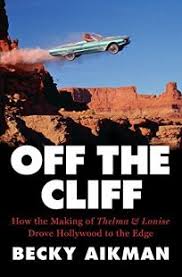 Here's my conversation with Becky Aikman about her book, "Off The Cliff: How the Making of Thelma and Louise Drove Hollywood to the Edge." Among the topics we discussed:

Which actresses were considered before Susan Sarandon and Geena Davis got the lead roles?
How rare was it for a movie to star two female leads in the late 80s/early 90s?
Was Callie Khouri — a rookie writer who won an Oscar for her screenplay — happy with the movie?
Did studios try to talk her out of the drive-off-the-cliff ending?
Is it true the sex scene between Geena Davis and Brad Pitt was much steamier than we got to see?
Why was the movie so poorly marketed when it was released?
What was the reaction when it was released, from public and reviewers?
Did "Thelma and Louise" change anything in Hollywood?
Listen, then click here to subscribe to these podcasts via iTunes!