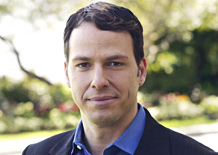 ABC's Jake Tapper is traveling with Barack Obama on his world tour and joined me this morning on WLS/Chicago to talk about today's speech in Berlin.
After teaching Jake how to be Kennedy-esque by saying "ich bin ein kugelschreiber," I asked why Obama is giving a speech to hundreds of thousands of people who can't vote for him, what message the campaign is trying to send back home to Americans, and whether his popularity in Europe could be a liability with some independents here. We also talked about Obama's visit to Israel and whether there's anything he (or other US politicians, for that matter) can do to solve the lingering problems there.
Listen, then read Jake's blog, Political Punch.