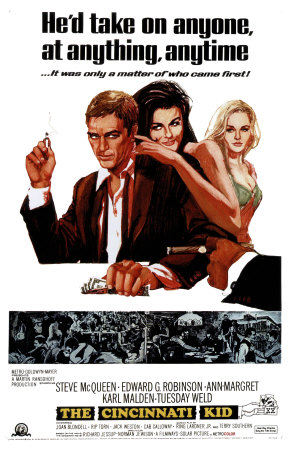 Recently, I was in a casino with posters on the walls from movies about poker or which had significant scenes revolving around a poker game. They had "Rounders," "The Sting," "California Split," "Casino Royale," "Maverick," and the one above for "The Cincinnati Kid."
Though I've seen "The Cincinnati Kid" several times, I'd never seen the poster and did a double-take when I spotted it because something seemed wrong. Besides the fact that the guy looks nothing like Steve McQueen, you can't tell by looking at the poster that the movie is about a poker player. While the story does include his relationships with Tuesday Weld and Ann-Margret (who are included in the poster illustration), the central plot is that The Kid (McQueen as Eric Stoner) sits down with The Man (Edward G. Robinson as Lancey Howard) for an epic game of five-card stud which ends with one of those only-in-a-movie hands. Also at the table: Jack Weston and Cab Calloway, plus railbirds including Rip Torn, Karl Malden, and Joan Blondell.
It's great stuff, but the poster gives you no idea what to expect. Even that tagline, "He'd take on anyone, at anything, anytime…it was only a matter of who came first" doesn't make any sense except as a weird sexual-pun. McQueen's Eric Stoner is a loner and a gambler, but he's made his reputation as a disciplined poker player who is very careful about his opponents and the venue.
Compare that to the poster for "Rounders," which clearly features Matt Damon and Edward Norton holding playing cards and poker chips. You have an idea what you're getting there, and the movie delivers so well that it's credited by many current poker pros as the tipping point that made them want to play the game.

One last thing regarding another of the movies mentioned. "California Split" stars Elliott Gould and George Segal as two guys who like card rooms and race tracks, and culminates in a big cash game in Reno where Amarillo Slim Preston is one of the players. It gets the degenerate gambler life right but, unfortunately, it's a total bore.
Directed by Robert Altman, it has lots of his trademark overlapping dialogue, which worked so well in "M*A*S*H," but not so much here. And while it's a little bit interesting from a nostalgia perspective to see the haircuts and clothing of 1974, the pacing drags and drags. Slogging through "California Split" is like sitting in a poker tournament for hour after hour without getting any decent cards and never winning a hand — you can't wait for the torture to be over.
But at least the poster give you an idea what the movie's about…