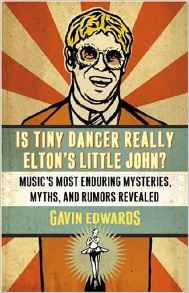 Gavin Edwards of Rolling Stone magazine has compiled some of his favorite questions about rock and roll mysteries, myths, and urban legends, into a book, "Is Tiny Dancer Really Elton's Little John?" This afternoon on my show, he answered that question and many others, including:

Did Randy Bachman sing "You Ain't Seen Nothing Yet" to mock his brother's stuttering?
Does The Beatles' "Norwegian Wood" end with the guy burning down the woman's apartment?
Where did band names like Foo Fighters, Pearl Jam, and Wang Chung come from?
Does John Mayer really see music as colors?
In Def Leppard's "Rock of Ages," what the heck does "Gunter Gleeben Glausen Globen" mean?
It's been a quarter-century since the first CDs came out — are they going to start disintegrating soon, or will they last forever?
Listen, then click here to subscribe to these podcasts via iTunes!