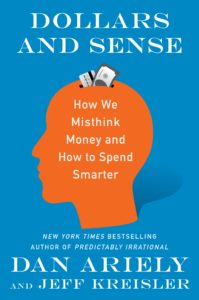 Here's my conversation with Jeff Kreisler, co-author with Dan Ariely of "Dollars and Sense: How We Misthink Money and How to Spend Smarter."
Jeff explained such terms as opportunity cost, the pain of paying, and anchoring. We also discussed why we don't talk to each other about money, and why our kids don't get a good financial education in school. We also delved into why it's a bad idea to be your own real estate agent, how credit cards make us pay more for things, and what we did before there was money.
Listen, then click here to subscribe to these podcasts via iTunes!
Jeff's next project is PeopleScience.com.