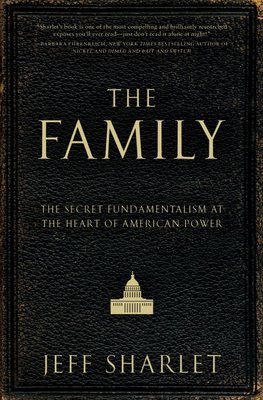 A secret religious cult operating inside the chambers of our federal government, covering up their own misdeeds, and using taxpayer dollars to spread their goal of "Biblical capitalism"? Sounds like fiction, but it's fact.
Jeff Sharlet joined me on KIRO/Seattle today to talk about his investigations into a that group, as revealed in his book, "The Family: The Secret Fundamentalism at the Heart of American Power." He uncovers the inside workings of this group of senators and congressmen, who vow to put The Family and each other above all else, including their oath to uphold the Constitution.
Members of The Family have included two recently disgraced Republican big shots — Sen. John Ensign of Nevada and Gov. Mark Sanford of South Carolina — whose adultery was known, and covered up by, fellow members of The Family (talk about religious hypocrisy: many of these legislators pushed for Ten Commandments displays across the country, but there's at least one Commandment they didn't follow themselves!). These ultra-religious (!) politicians have traveled the world on missionary trips disguised as Congressional business, given each other "veto rights" over their lives, and operated as a lobbying organization without registering as such.
The fact that such an extremist religious group — made up of some of this nation's top elected officials, both Republican and Democratic — has managed to stay so secret and been allowed to continue operating, is a huge scandal that should be the subject of an official investigation, with thanks to Sharlet for uncovering large parts of this developing story.
Listen, then click here to subscribe to these podcasts via iTunes!
Some of the members of Congress with ties to The Family: Sen. Tom Coburn, Rep. Chip Pickering, Sen. Chuck Grassley, Sen. Jim DeMint, Sen. Lindsay Graham, Sen. James Inhofe, Sen John Thune, Rep. Joe Pitts, Rep. Frank Wolf, Rep. Zach Wamp, Rep. Jo Ann Emerson, Rep. Marsha Blackburn, Rep. Mike McIntyre, Sen. Mark Pryor, and many more.