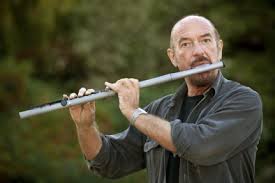 Ian Anderson is the most famous flute player in rock history. As the songwriter and singer for Jethro Tull, he has sold over 60 million albums, including "Aqualung," "War Child," and "Benefit." Now he's back with a new one called "Homo Erraticus," and joined me on America Weekend to talk about it.
We discussed how he has updated the story of Gerald Bostock, the character he first introduced as a boy in his 1972 album, "Thick As A Brick." I also asked Ian how changes in technology have affected the way he records his albums, how disciplined he was in writing the new album, and how much he embodies the characters he's singing about while performing on stage.
Listen, then click here to subscribe to these podcasts via iTunes!