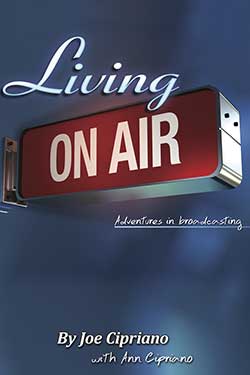 Joe Cipriano is one of television's top voiceover talents. You've heard him promoting the primetime lineups of most networks (including 25 years as the "voice of Fox"), or as the announcer on game shows like "America's Got Talent" and "Deal or No Deal" or award shows like the Emmys and Grammys. You also may have heard him recently in an interview I did with Joe and Fred Melamed (one of the stars of the movie "In A World") or my conversation with Joe and Don LaFontaine in 2005. He's also the voice of more than a dozen radio stations.
Joe just sent me his book, "Living On Air," a memoir of his career, from hanging around his hometown radio station in Connecticut as a teenager, to getting his first shot at being a DJ, to working his way up from a small market to big stations in DC and LA, and then on to his current life as a TV voice for hire. It's a great read, because it's a story that's sadly scarce these days, of a young guy's obsession with radio.
Joe and I shared a passion for this business from very early on, inspired by the men (there were few women in business) who entertained us with their voices every day before and after school. Like me, Joe loved spending time in a radio studio, surrounded by records and equipment, learning from listening to the pros on the air, and experimenting with his own style. Along the way, he discovered the excitement of pleasing a large audience and how appealing his voice behind the microphone could be to listeners of the opposite sex, as well as the cruel side of the radio business, and how opportunities come from both hard work and the occasional assist from a mentor. He also reveals how being on the radio in Los Angeles puts you inside the heads of people who can change your life in ways you never imagined.
"Living On Air" will be published next week in book, e-book, and audio book formats, which you can pre-order now on his site. Joe sent it to me as a PDF file, and though I cruised through it in one night, I'd recommend you buy it in the audio book format so you can hear his story in his own professional broadcaster voice.
Considering how much he charges the networks for his talents, you'll be getting quite a bargain.