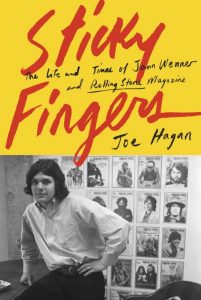 Next week will mark the 50th anniversary of the publication of the first issue of Rolling Stone magazine, with John Lennon on the cover. The occasion will be marked with a four-hour documentary by Alex Gibney, "Rolling Stone: Stories From The Edge," airing on HBO 11/6-7.
Also timed for the anniversary: Joe Hagan's biography of the magazine's editor and publisher, "Sticky Fingers: The Life and Times of Jann Wenner and Rolling Stone Magazine," which was published last week, and brought him to my show for this conversation.
We covered the birth of Rolling Stone, its impact on music and culture, and Wenner's hiring of non-music writers like Hunter S. Thompson, Matt Taibbi, and Tom Wolfe. We also explored why Wenner — who gave Hagan complete access to his life and files for four years — has now disavowed the book. And we dropped a few big names, too, like John Lennon, Bruce Springsteen, Annie Liebovitz, and Mick Jagger.
Listen, then click here to subscribe to these podcasts via iTunes!