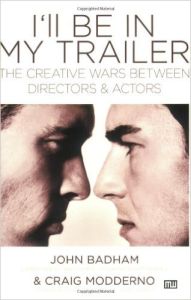 Here's my conversation with director John Badham, who shared some great stories from the many movies and TV shows he has made through the years.
Badham explained how he got John Travolta to walk in unison with "Stayin' Alive" when shooting that iconic opening scene for "Saturday Night Fever," and how he later battled with the actor over a scene on a bridge. That led to a discussion of why a director should never go to the mat with his cast, as Badham mistakenly did with Richard Pryor while shooting "The Bingo Long Traveling All-Stars and Motor Kings."
We also talked about how Badham humanized the computer in "War Games" by giving it a distinctive voice, why he was fired from the movie version of "The Wiz," and why making an episode of a TV series is much harder than making a feature film. Badham started as a TV director, moved to movies, and has recently worked on episodes of "Heroes," "Crossing Jordan," "Las Vegas," and "Psych."
Badham's book, "I'll Be In My Trailer," is a great primer for aspiring moviemakers or anyone who's just a movie fan. Listen, then click here to subscribe to these podcasts via iTunes!