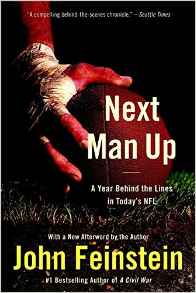 Here's my conversation with John Feinstein, whose new book, "Next Man Up," chronicles a year with the NFL's Baltimore Ravens, as seen through the eyes of one of our best sportswriters.
We talked about what goes on behind the scenes with the players and coaches, how the NFL has uniform police making sure that players are wearing their socks correctly, what halftime is like in the locker room, what doctors and trainers are really doing to keep players on the field, how coach Brian Billick motivates his players with movie scenes, the other side of Deion Sanders' "Primetime" personality, how Ray Lewis is the team leader, and much more.
Listen, then click here to subscribe to these podcasts via iTunes!