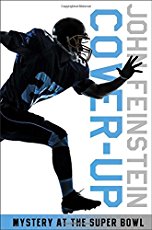 Sportswriter John Feinstein was back on my show this afternoon to talk about his new novel, "Cover-Up: Mystery At The Super Bowl," in which his two teen detectives discover a team owner (who bears a striking resemblence to Dan Snyder) covering up the use of human growth hormone by his team.
We also talked about Michael Vick's legal problems, and what his plea bargain means for any possible return to the NFL. And we discussed Tim Donaghy's gambling scandal, which may expand and include other NBA referees.
Listen, then click here to subscribe to these podcasts via iTunes!