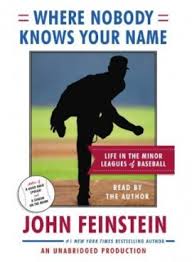 Sportswriter John Feinstein is back with another sure-to-be bestseller, this time about life in baseball's minor leagues, specifically Triple-A, "Where Nobody Knows Your Name." He profiles 9 men trying to get to (or get back to) the majors, a/k/a The Show — 3 pitchers, three position players, an umpire, and two managers.
On my America Weekend show, I started by asking John if the minors are anything like they were portrayed in "Bull Durham," and then we moved on to how some of these players get by paycheck-to-paycheck, how one manager has spent his entire adult life in the minors, and how some former big leaguers used the minors to rehab their bodies and careers. It's always a pleasure talking with John because he's such a good storyteller, and he didn't disappoint in this conversation (or this book!).
Listen, then click here to subscribe to these podcasts via iTunes!