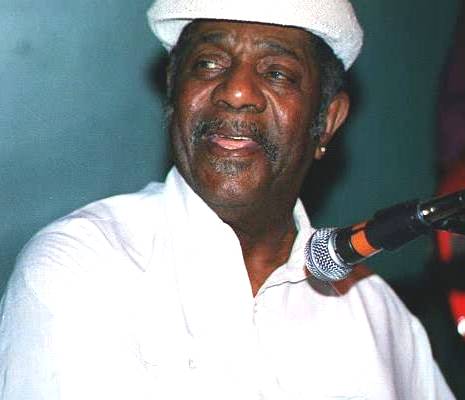 Today, eleven years after his death, Johnnie Johnson received the Congressional Gold Medal in a ceremony at the National Blues Museum in St. Louis. That made me dig into my archives to find this interview I did with Johnnie on June 29, 1999, nine days before he turned 75 years old. We were joined by Travis Fitzpatrick, who wrote Johnnie's biography, "The Father Of Rock And Roll," and — along with Gene Ackmann of Butch Wax And The Hollywoods — was instrumental in getting a petition signed that got Johnnie into the Rock And Roll Hall Of Fame.
When Johnnie was inducted in 2001, he was called "one of the unsung heroes of rock and roll." You may not know his name, but you know Johnnie's work because he played piano on almost all of Chuck Berry's hits — in fact, he's the one "Johnny B. Goode" is about. His page on the RRHOF website says:

Berry's rocking hillbilly style melded with Johnson's jazz-tinged blues and boogie. Many of Chuck Berry's rock and roll classics – including "Sweet Little Sixteen," "School Days" and "Roll Over Beethoven" – came about during impromptu rehearsals when Berry would show up with lyrics and ask Johnson to play some music behind it. "Just me, Chuck and the piano" is how Johnson put it. Johnson and Berry traveled to Chicago in 1955, where they recorded "Maybellene," the first of many Chuck Berry hits that featured Johnson on piano. In fact, Berry wrote "Johnny B. Goode" as a tribute to Johnson, who often kept playing piano long after a show ended, sitting in with jazz bands and anyone who would have him. "I would play anytime, anywhere, with anybody," he has said. Referring to his disappearing acts, Berry would look at him and say, "Why can't you just be good, Johnny?"

Johnson remained with Berry until 1973. It was nothing personal, he said of his departure. I was just tired and, plus, I was scared to fly. Over time, there was a growing recognition that Johnson's musical contributions to Berry's songs were essential to their success. The humble, overlooked pianist finally received some long-overdue attention in the Chuck Berry film documentary Hail! Hail! Rock and Roll, wherein Keith Richards and others testified to the importance of Johnson's piano stylings. Ironically, Johnson at the time was working as a bus driver in St. Louis. The intervention of Richards and others and the attention brought to him by the film returned Johnson to the world of music.
For Johnnie's visit to my show, I arranged to have an electric piano in the studio so he could play, much to the delight of a crowd of people who jammed in with us — along with dozens outside observing through the studio windows — to listen to him. Sitting three feet away, I was fascinated by his left hand, playing those boogie-woogie bass lines that helped launch a musical genre so many decades ago.
In our conversation, Johnnie shared stories about how he and Chuck wrote some of rock's seminal songs — which Johnnie never got songwriting credit or royalties for — as well as working with Keith Richards, Eric Clapton, Gregg Allman, Bob Weir, and others.
Listen, then click here to subscribe to these podcasts via iTunes!
Previously on Harris Online…