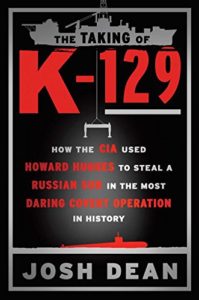 Here's my conversation with Josh Dean, author of a book with a very intriguing title: "The Taking Of K-129: How The CIA Used Howard Hughes To Steal A Russian Sub In The Most Daring Covert Operation In History." No, it's not a novel — it's a true story, and I won't be surprised when it's turned into a movie.
Among the questions I asked him:

How did the US know the Soviet submarine had sunk, considering how different technology was in 1968?
What information did the US gain from the retrieval?
What was the Howard Hughes part of the plot?
Has the US ever lost a nuclear sub?
Considering the CIA lied to the American public, how do you know your intelligence sources told you the truth?
Was the equipment used to lift the sub off the ocean floor ever used again?
Did the CIA recover the whole sub, or is some of it still under the Pacific?
How do you answer conspiracy theorists who say the Soviet sub was poised to attack the United States?
Could this happen today?
Listen, then click here to subscribe to these podcasts via iTunes!