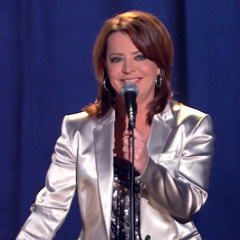 I wrote last week about seeing Louis CK in concert and mentioned that he was one of only a few comedians who can do 90 minutes alone on stage with entirely new material each time he tours. Last night, we went to see another one of the few — Kathleen Madigan, playing her biggest show in her hometown at the Peabody Opera House here in St. Louis.
While Kathleen's act wasn't entirely new (I'd heard the last 10 minutes before), her hour-and-a-half was very topical, making fun of the presidential contenders and their running mates, as well as discussing her many trips to Iraq and Afghanistan for USO shows with her pal Lewis Black (who she imitates mercilessly but lovingly) and Lance Armstrong (who she eviscerates). Her material is sharp, clever, and funny as hell, as in a long riff she does on the only kind of news stories that get national news coverage for Missouri (Todd Akin, hillbilly handfishing, and exploding meth labs).
I have happily watched Kathleen's career progress from her nights on the club circuit — I first met her in the mid 1990s in Washington when she visited my DC101 morning show to promote her appearance at the Comedy Cafe — and then moved up to casino showrooms and medium-sized theaters, and she's now selling out thousands of seats in big houses like the Peabody. When she comes to your town, go see her.
One other difference between Louis and Kathleen — she has a much better opening act. Greg Warren, also from St. Louis, did a half-hour of funny stuff that set the stage for her perfectly.