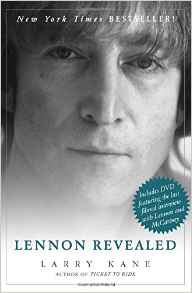 Larry Kane was the only American radio reporter to travel with The Beatles on their 1964 and 1965 US tours, which he detailed in his book, "Ticket To Ride." His new book, "Lennon Revealed," includes more stories about his friendship with Lennon, right up to the month before he died.
Larry returned to my show to mark the 25th anniversary of John Lennon's murder and tell some of those stories. The most remarkable involves a weekend in 1975 when he convinced Lennon to take the train from New York to Philadelphia to help out with a charity radiothon on WFIL. While there, Lennon (who hadn't made public appearances in years) spent hours on the air, answered phones, signed autographs, and personally met nearly 2,000 fans who flocked to see him. Kane, who was then the top TV anchorman in town, also convinced Lennon to join him on his newscast that night to do the weather. There's video of that odd few minutes included on the DVD in Kane's book.
Listen, then click here to subscribe to these podcasts via iTunes!