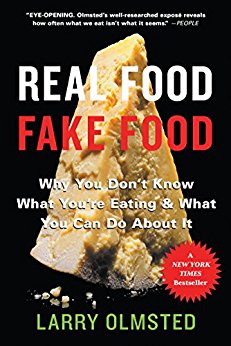 Do you know there's wood pulp in your parmesan cheese? Do you know there's probably no lobster in the lobster bisque you ordered? Do you know what makes olive oil "extra virgin"? Do you know that the Kobe beef on a restaurant menu is very unlikely to be real Kobe beef?
These are just a few of the questions answered by my guest Larry Olmsted, author of "Real Food/Fake Food: Why You Don't Know What You're Eating and What You Can Do About It."
Larry writes the Great American Bites column for USA Today and is the travel and food columnist for Forbes.
We also discussed why the FDA does such a poor job of regulating the food we buy, why you shouldn't buy apples in June, and what the real definitions are of "free-range," "natural," and "organic."
Listen, then click here to subscribe to these podcasts via iTunes!