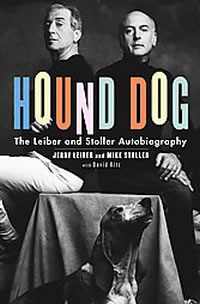 Jerry Leiber and Mike Stoller are one of the greatest songwriting teams in history. I would have put them in the Rock and Roll Hall of Fame if they had written nothing but "Stand By Me." But their list of hits also includes, "On Broadway," "Young Blood," "Yakety Yak," "Love Potion #9," "Poison Ivy," "Kansas City," and so many more.
They joined me on KTRS/St. Louis to talk about their remarkable half-century careers and their autobiography, "Hound Dog," named for the song they wrote for blues artist Big Mama Thornton, which was turned into a huge hit by Elvis Presley — without their knowledge. When you listen to the interview, you'll shake your head in amazement about how they found out about it.
We also discussed how they wrote a lot of early crossover hits for black artists at a time when they were not played on white radio in the US, how they made money in an era infamous for royalties and other rights not going to performers and writers, how they were forced to write "Jailhouse Rock" and other songs on a strict deadline, and how they were the first to introduce strings into an R&B arrangement with "There Goes My Baby."
Listen, then click here to subscribe to these podcasts via iTunes!