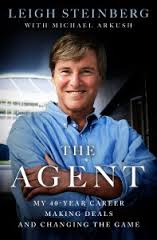 When Cameron Crowe was developing "Jerry Maguire," he turned to Leigh Steinberg for advice on what the life of a sports agent was like. Steinberg was, arguably, the most famous sports agent in the world, representing over 150 pro athletes, including 8 number-one NFL draft picks. Now that he's written about his life in "The Agent," he joined me on America Weekend to discuss:

what an agent tells a player about playing in the Super Bowl;
how that game can change a player's future, even if he's not a quarterback;
how he helped Warren Moon change the perception that blacks could not be quarterbacks;
his work in making the NFL more aware of what concussions have done to its players.
Listen, then click here to subscribe to these podcasts via iTunes!
Previously on Harris Online…