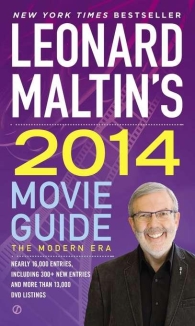 Leonard Maltin is one of our most respected film critics and historians, whose work you've seen on Entertainment Tonight and his own Reelz Channel show, and now he has his own channel on YouTube and his reviews appear on IndieWire.com. He's also the author of a movie guide which he's been publishing and updating every year since 1969 –- and the 2014 edition is available now in Paperback and as an iPhone app.
When he joined me on America Weekend today, we discussed about the movie exhibition business, including a sour experience he had recently in a theater where the employees weren't paying attention. We also talked about the upcoming "Saving Mr. Banks" with Emma Thompson and Tom Hanks, and our shared admiration for a movie that not enough people saw this year called "Mud."
Listen, then click here to subscribe to these podcasts via iTunes!