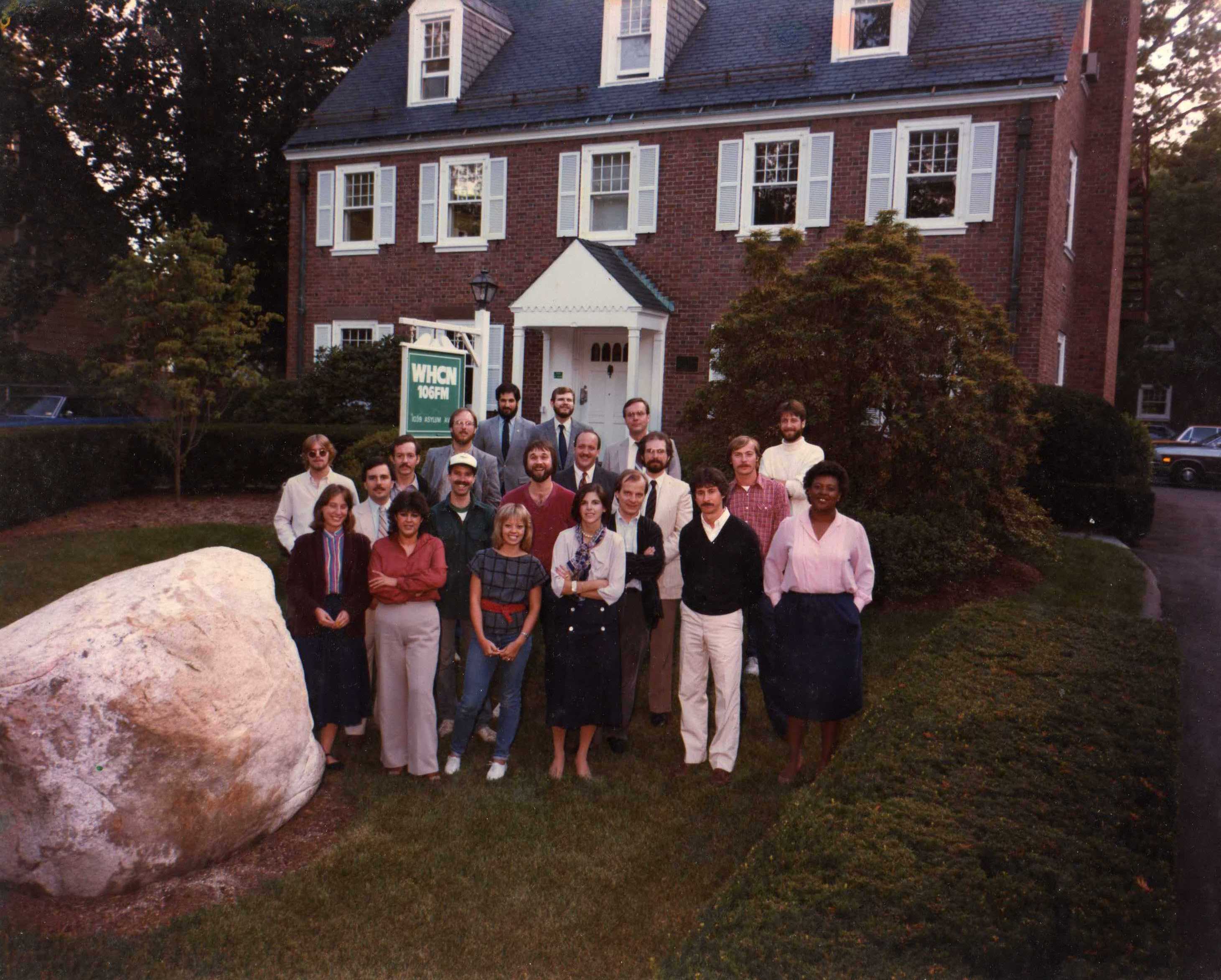 Dan Hayden was Program Director of WHCN/Hartford when I worked there (1981-85). He was a visionary who led the station through its greatest years as the most popular rock radio station in Connecticut. Dan's the one who turned me from a nighttime music personality to a full-blown morning man, a daypart I stayed in for 15 years as I moved on to New York, Philadelphia, and Washington, until I was too tired of waking up at 4am to go to work. After I left WHCN, Dan brought back Michael Picozzi to take over the morning show for the next decade with my former news guy/sidekick, Gary Lee Horn.
Last night, Dan posted this on Facebook:

On Sunday Michael Picozzi managed a very cool move. Quick background, around 1980-ish WHCN moved its studios from a downtown Hartford high rise to an old mansion on Asylum Hill.
I thought it would be a good idea to place a very large rock in front of the building so all would know what the station stood for. General Manager Bill Lee and I spent a day searching quarries for the ideal stone. We found it at the bottom of a hill at a quarry in Danielson (I think) — a long haul from Hartford.
Years later Clear Channel purchased WHCN and moved the station back downtown. The other rock station in town, WCCC, moved into the former WHCN building and carried on the rock tradition until recently being sold.
So the cool move is this: Picozzi managed to have the rock – weighing several tons – moved to the front lawn of his house. And there it sits in all its rock 'n roll glory. I won't give out the address you can ask Michael for that. In the history of Hartford radio there have only been two commercial rock stations and 'the rock' was an important part of both of them. Many, many rock artists and radio personalities were photographed hanging around that glorious rock. Nice move, Michael!
Going to work every day for four years in that unique facility was one of the highlights of my career, a place where I learned an enormous amount about making great radio and worked with a lot of talented people. The photo above shows the WHCN staff gathered next to The Rock circa 1983.
That's me in the back row — in a tie and beard and full head of hair! The beautiful young woman on the bottom left was a relatively new employee who made the mistake of falling in love with me (and vice versa) that year — and we're still together more than three decades later. Also in that row are Kim Alexander (who replaced me in evenings when I moved to mornings), newswoman Phyllis Parizek, production guy Tom "50,000" Watts, Dan Hayden, and promotions director Teri Milling.
Gary was next to me (our show was "Harris and The Horn"). The guy on the upper right was weekender Andy Geller, who went on to a career as a bigtime voiceover guy, as did Bob Smith, the only one in sunglasses. In front of me was Bob Bittens, then the Midday Man/Music Director and later Program Director when Dan left WHCN. In the middle with the v-neck and beard was Phil Kirzyc, a truly great disc jockey who regularly kicked my butt in a video football game we played in his apartment a lot.
I apologize for not remembering everyone in the photo, as the years have not been kind to my memory, but each of them contributed to a truly remarkable radio experience for all of us who worked there — and a helluva lot of listeners, too.