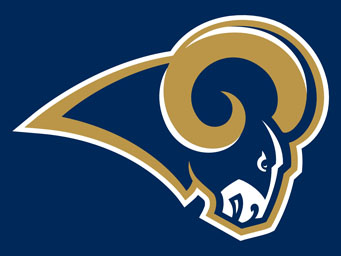 For too long, St. Louis football fans have endured…
Too many seasons with records under .500.
Too many seasons of undisciplined players who are called for too many penalties.
Too many rebuilding seasons with young players who can't deliver the goods.
Too many years of coaches and offensive coordinators with uninspired play-calling.
Too many rookies and newbies who can't outrun veteran defenders and get open, forcing too many quarterbacks to check down to too many receivers in too many short patterns.
Too few attempts to push the ball downfield.
Too many injuries to starting quarterbacks, replaced by an unending stream of not-ready-for-the-NFL rookies and bounced-around-the-league-for-too-long journeymen.
Too many games with Dick Stockton calling the action. Let's just say Stockton is no Al Michaels and Kirk Morrison (the latest in a long line of too many Fox rookie analysts in the booth) is no Cris Collinsworth.
Too many years since we were spoiled by The Greatest Show On Turf 15 years ago…and for the last decade, too many Rams teams that have struggled to even achieve mediocrity.
I don't go to Rams games, but I do watch them on TV, and I worry that the diminishing fan base will soon get so small that the NFL's blackout rule will kick in — so that none of their games are on local TV — and that will be that. In fact, it sounded today like there were at least as many Vikings fans in the dome cheering for their team as there were Rams fans booing ours. This was not a first-time phenomenon. I wouldn't be surprised to hear that St. Louis leads the NFL in tickets sold to fans of the opposing team.
We're not going to spend public dollars to build the Rams a new stadium or fix up their current home in the dome — and we know that billionaire owner Stan Kroenke won't put his own hard-inherited money to fix up a venue where attendance is going to keep dropping because the product consistently sucks.
So, LA, you can have the Rams back.
You're the nation's second-largest market, and you're supposedly hungry for an NFL franchise that will bring out huge crowds, create corporate synergy opportunities, and draw big TV ratings. Go ahead and build them a new stadium and try to create a new fan base. But when the new LA Rams set records for fumbles lost, interceptions thrown, penalties against, and players with season-ending injuries, don't come crying to us.
We have been there and done that for the last decade.