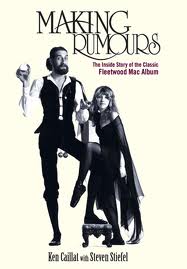 In January, 1976, Ken Caillat went into a studio in Sausalito, California, to engineer and co-produce a new Fleetwood Mac album. When it was released a year later, it spawned four Top-10 singles, became one of the biggest selling albums of all time, and won the Grammy for Album Of The Year. But those were a tough twelve months, because all five of the band members — Stevie Nicks, Christine McVie, John McVie, Mick Fleetwood, Lindsay Buckingham — were in the process of break-ups and divorces, mostly from each other, and those relationship problems were a constant factor in the studio, where screaming sessions broke out regularly. Caillat has written about that adventure in a new book, "Making Rumours: The Inside Story Of The Classic Fleetwood Mac Album."
Today on KTRS/St. Louis, I talked with Caillat about how he helped them get through that recording process, despite the antipathy, by focusing on the music. He explained some of the keys to the sounds, including why Buckingham played a Naugahyde chair on "Second Hand News," the unique sound of Nicks' vocals on "Gold Dust Woman," why not all of the band members liked Bill Clinton using "Don't Stop" as his campaign theme song, and how McVie and Fleetwood felt about their longtime blues/rock group being turned into a hit-making pop band.
Listen, then click here to subscribe to these podcasts via iTunes!
Previously on Harris Online…