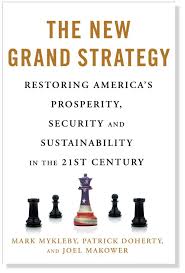 Here's my conversation with Joel Makower and Mark Mykleby about their book, "The New Grand Strategy: Restoring America's Prosperity, Security, and Sustainability in the 21st Century." We talked about how unsustainability is a global problem, how long it's been since we had any kind of Grand Strategy, and how business is leading the way because Washington can't and won't. On that latter point, we discussed companies like Subaru that operate factories with zero waste, and how the economics of business often lead to greener solutions.
Joel Makower is an old friend who runs GreenBiz Group. Mark "Puck" Mykleby is a retired Marine colonel and co-director of the Strategic Innovation Lab at Case Western Reserve University.
Listen, then click here to subscribe to these podcasts via iTunes!
Previously on Harris Online…