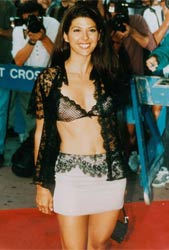 Marisa Tomei is still amazingly hot.
I just saw "Before The Devil Knows You're Dead." It features terrific performances by Philip Seymour Hoffman, Ethan Hawke, and Albert Finney, well directed by Sidney Lumet. Since Tomei's character is married to Hoffman and having an affair with Hawke, we get to see quite a few scenes of her topless, and I have to say that, at 43 years old, she looks remarkable.
When I mentioned this to my wife, she replied, "Well, sure, she probably has her own trainer and nutritionist, not to mention some work done."
That's not the point. The point is that Marisa Tomei is still amazingly hot.