With the movie "Molly's Game" (starring Jessica Chastain, written and directed by Aaron Sorkin) opening today (listen to my review here), here's my 2014 conversation with Molly Bloom, the former underground high-stakes poker game organizer, who wrote about her experiences in the book the movie is based on…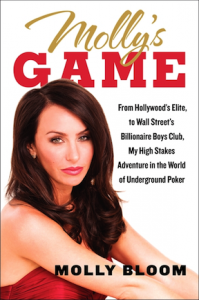 For several years, Molly Bloom ran the biggest high-stakes poker game in Hollywood, with players like Tobey Maguire, Ben Affleck, Leonardo DiCaprio, Jamie Gold, Nelly, Guy Laliberte, Gabe Kaplan, and several rich guys whose names you might not know. She ran it in secret, not because it was illegal (it wasn't), but because if word got out about where and when it was played, it would have ended — and so would her income stream, which was quite generous.
She joined me to talk about her experiences running that underground game in LA, and later in New York, which she details in her book, "Molly's Game." We talked about Tobey Maguire's obnoxious greed, the degenerate gamblers who played and lost millions, how she chose the players, and why she wouldn't let any poker pros in the game. She also explained how she eventually got in trouble with the law, in a case that was just resolved last month.
One side note about this interview. Molly was doing several of them back-to-back via satellite, for five to eight minutes each, and I was last on the schedule. I was able to listen in on the talk show host right before me (I don't know his name, but he's from Providence, RI), and though I couldn't hear his voice, I could tell by her answers that he knew nothing about poker or the game she ran, and wasn't treating her very nicely. It was obvious she wasn't enjoying it.
Knowing that, when she came on the line with me, before we started recording, I told her that I actually knew her story and had read the entire book the day before (and enjoyed it!), plus I would bring a very different perspective to the interview because not only do I play poker often, but have been at the tables with several of the celebrities she had in her games. Her mood changed as she laughed and agreed, and we were off and running for what became a fifteen-minute conversation.
Listen, then click here to subscribe to these podcasts via iTunes!