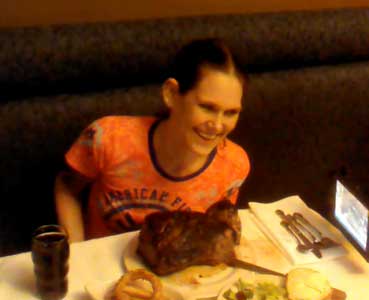 A few months ago, I told the story of Molly Schuyler, who took a restaurant's challenge to eat a 72-ounce steak in less than 10 minutes. Although Molly is not a large woman, it was no challenge at all — she finished it off in 2 minutes, 44 seconds. Today on America Weekend, I finally tracked down Molly, who has taken part in several competitive eating events since then, including the Wing Bowl in Philadelphia (363 wings) followed the next day by the IHOP Pancake Bowl and the Blue Ribbon Bacon Festival (5 pounds of bacon).
How does she do it? Why does she do it? Does she let her kids indulge in large quantities of food? What's the rest of her diet like? Is there big prize money at these events? Those are just some of the questions I asked Molly. Listen, then click here to subscribe to these podcasts via iTunes!
You can see Molly devouring pizza, burritos, burgers, and more on her YouTube Channel.