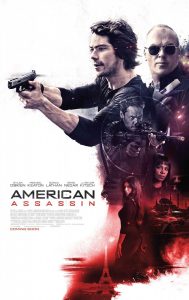 Mitch Rapp has just proposed to his beautiful girlfriend on the beach in Ibiza, Spain. When he goes to the bar to get a couple of drinks to toast their engagement, all hell breaks loose. Gunmen appear out of nowhere, shooting everyone in sight. She's dead, but somehow he survives.
The next time we see him, Mitch is in training. It's clear he's working to get back at the Iranians who pulled off the terrorist attack that turned his life upside down. Meanwhile, he's attracted the attention of the CIA, which is monitoring his communications with the jihadists. Pretty soon, he's being recruited to join an elite fighting force called Orion, run by tough guy Stan Hurley, played by Michael Keaton.
As in so many other movies, everything is better when Keaton is on screen. He's still a magnetic personality, but I like him best when he's playing a rogue character. This time, however, he's the boss and Mitch is the guy who doesn't like following orders, so you know they're going to butt heads before they're forced to work together to save the world.
Did I give too much away? No, because we've seen this formula and characters like Mitch before: John McClane, Jack Reacher, Jason Bourne. The kind of guy who can withstand a brutal fistfight, shoot you dead with the last bullet in his gun, and somehow know exactly where the bad guy is at just the right time. It's also the kind of movie where the bad guy doesn't kill the good guy because he wants his nemesis to see the havoc he's about to wreak (never mind the collateral damage of the rest of the people on the good guy's side). So, you're unlikely to be surprised by anywhere "American Assassin" takes you, including a finale that may remind you of a 2002 movie based on a Tom Clancy book.
That said, Dylan O'Brien, who plays Mitch, is very good in the role, and I have a feeling we'll see him as this character again, considering "American Assassin" is based on just one of sixteen Mitch Rapp novels in print. Of course, a lot of people said the same thing about Taylor Kitsch five years ago when he graduated from TV star on "Friday Night Lights" to action movie star in "John Carter," but that didn't quite work out. So it's ironic that Kitsch shows up in "American Assassin" as a bad guy. The cast also includes Sanaa Lathan as the CIA authority figure trying to keep both Mitch and Stan under control while simultaneously supporting every rogue move they pull off.
Last week, in discussing Jeremy Renner, I mentioned "Kill The Messenger," an underrated 2014 title in which he starred as real-life journalist Gary Webb, who uncovered the CIA's role in importing cocaine into American ghettoes in the 1990s. That movie was well directed by Michael Cuesta, who also does a good job with "American Assassin." He gets the action sequences right, doesn't telegraph what's coming next, and lets Keaton be Keaton, which always helps.
I give "American Assassin" a 6.5 out of 10.