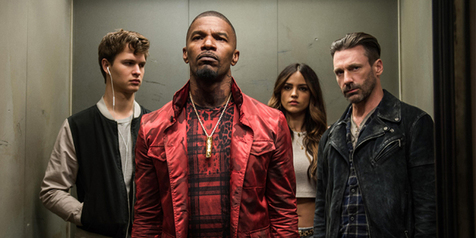 "Baby Driver" is the story of a guy known as Baby, who, every time he's introduced to someone, has to tell them, "Yes, Baby, B-A-B-Y." Because it's a hard name to spell.
Baby is the getaway driver for gangs of thieves that include Jamie Foxx and Jon Hamm, who are put together in different combinations for different heists by Kevin Spacey, who engineers the entire operation but doesn't go along for the money grab. In that way, he's very much like the character he plays in the MIT blackjack movie "21," the genius behind the scenes who doesn't get his hands dirty.
Baby is played by Ansel Elgort, who was in "The Fault In Our Stars" and the three "Divergent/Insurgent/Allegiant" movies. I haven't seen any of those, but in "Baby Driver," he reminds me a combination of Johnny Depp in John Waters' "Cry Baby" and Alden Ehrenreich's naive young actor or in "Hail, Caesar!"
The real star of "Baby Driver" is its soundtrack, with 30 songs from a variety of genres, which Baby is constantly listening to on his ever-present iPod. The music clearance fees for this thing must be the highest of any movie this year. It's almost as if director Edgar Wright came up with the idea for the movie, then decided which tunes to have on the soundtrack, and then threw together the script as an afterthought.
Wright has a following from his earlier movies ("Shawn of the Dead," "The World's End," "Scott Pilgrim vs. The World"), and his own Tarantino-like visual style. In "Baby Driver," he gets good bad-guy performances out of Foxx, Hamm, and Eiza Gonzalez. Unfortunately, the plot isn't all that original or compelling — in fact, I saw every development coming a mile away. A bunch of criminals pull off some heists, Baby drives the getaway car, the thieves argue and turn against each other over nonsense and, of course, there's a love interest, too (Lily James).
The car chase scenes are very well-designed, with great stunt work and cinematography that puts you right in the middle of the action. But, in real life, does any criminal ever get away in one of these car chases? Usually they end up on TV having to jump out of the car, hop over some fences, and run through several backyards before they are inevitably cornered by the cops.
My wife — and most of the crowd at the screening I attended — liked "Baby Driver" enough to clap at the end as the eponymous Simon and Garfunkel song played over the end credits (naturally), but I walked out unsatisfied.
So, I'm giving "Baby Driver" a 5 out of 10.