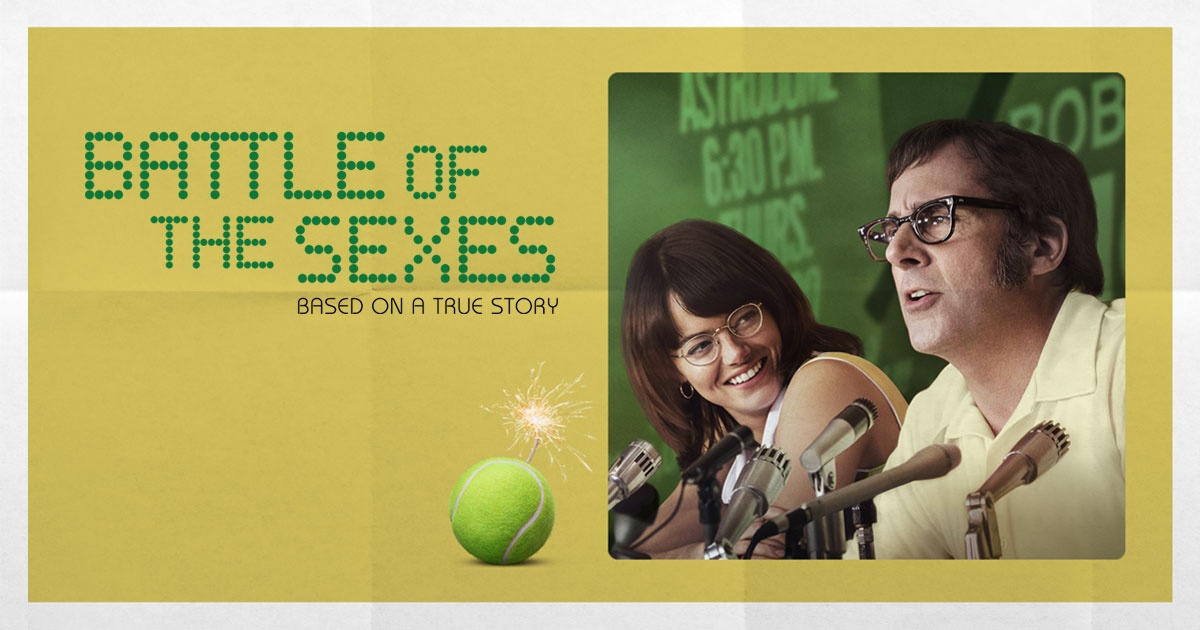 In 1973, Bobby Riggs was a 55-year-old hustler has-been who had won Wimbledon in his youth but couldn't stand being out of the spotlight. So, he challenged Billie Jean King (then the #1 women's tennis player in the world) to play him for a $35,000 payday. King declined, but when she was then beaten and replaced at the #1 spot by Margaret Court, Riggs challenged the new champion instead, and Court accepted — and lost, badly.
This allowed Riggs to go around making even more male chauvinist comments, like how women only belonged in the kitchen and the bedroom. Seeing an even bigger opportunity to make money and increase his fame, Riggs challenged King again, this time for $100,000 and — even though she thought the Court debacle had hurt the women's movement — she finally relented. The result was the most-watched tennis match in history. Ninety million people saw the spectacle, broadcast in primetime on ABC from the Houston Astrodome, with Howard Cosell doing the play-by-play and a circus-like atmosphere in the big build-up.
That's the heart of the movie "Battle Of The Sexes," which has really good performances by Emma Stone as King and Steve Carell as Riggs, plus a supporting cast that includes Sarah Silverman, Bill Pullman, Elisabeth Shue, and Alan Cumming. It also includes Cosell's original audio track from 1973, which was filled with all sorts of misogynistic lines like referring to King as "the little lady."
The movie, directed by Valerie Faris and Jonathan Dayton, who made "Little Miss Sunshine" and "Ruby Sparks," shows just how much discrimination women faced in that era and how important King was in advancing the fight for equality — and encouraging other women to do the same. The sexism, which was then routine, practically drips off the screen every time Pullman's character opens his mouth. I'd like to say that times have changed, but we still live in an era when men can still get away with saying shockingly offensive things about women with very little consequence.
My only objection to "Battle Of The Sexes" is that it spends too much time on King's discovery that she's a lesbian as she gets involved with a hairdresser played by Andrea Riseborough. While that's a very important part of King's life, it's over-emphasized in "Battle Of The Sexes" to the detriment of the rest of the story. I worry it may end up being a turnoff to some potential viewers, particularly those who want to take their young daughters to see and learn about one of the most important female figures in professional sports. That's not to say that King's life choices were wrong, I'm just talking about the context of the movie, which could have been tightened up from its two hour running time by cutting or shortening many of those sequences.
This is not the first time that famous tennis match has been dramatized on screen. In a 2001 TV movie, Holly Hunter stole the show as King vs. the always-solid Ron Silver as Riggs — but it's a story worth telling again for a new generation, especially when it's this well done.
I give "Battle Of The Sexes" an 8.5 out of 10.