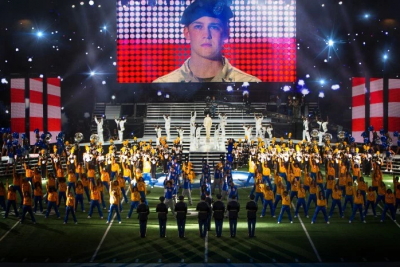 We have another entry on my Worst Movies Of 2016 list — "Billy Lynn's Long Halftime Walk."
It's 2004, and soldier Billy Lynn (Joe Alwyn) is home in Texas after a tour of duty with Bravo Company in Iraq that included a traumatic experience in which one of their own (Vin Diesel) was killed. Now he and the other members of Bravo have been invited to be part of the halftime show of a Dallas Cowboys game on Thanksgiving with Destiny's Child (you never see the faces of Beyonce or the other two, because they're always shot from behind — they would never have agreed to appear in this dreck).
The soldiers are being exploited by the NFL and the Pentagon to send the message that the war is worth it. That's an interesting theme that should be explored more, but director Ang Lee keeps getting distracted from that premise.
We're introduced to Kristen Stewart, who gives the only decent performance in the movie as Billy's sister, who opposes the war and doesn't want him going back to Iraq while she's battling cancer. At the football game, he meets a Cowboys cheerleader named Faison, who's attracted to him. Unfortunately, she's played by Makenzie Leigh, the worst actress I've seen on screen since Martha Gehman, who played Bryan Brown's assistant in "F/X" thirty years ago.
Steve Martin's in there, too, horribly miscast with a bad Texas accent as the owner of the Cowboys (he's not Jerry Jones, he's "Norman Oglesby"). At the same time, there's an agent (Chris Tucker) who's trying to get Bravo Company's story turned into a movie. Part of the problem is that the incident in Iraq isn't particularly about heroism or a lesson about war. It's just a bunch of guys involved in a firefight where one of them died.
There's a lot of hype about Ang Lee shooting this movie at 120 frames-per-second, which was supposed to add some hyper-realism to what we see. However, the only cities with theaters that can project a film at that speed are in New York and Los Angeles, so all of the rest of us can only see it at the usual 24 frames-per-second. Thus, it's impossible for me to judge if the high-speed filming experiment was worth it, but that technical difference couldn't possibly improve the quality of the movie's plot, which is terrible. Moreover, the expense of shooting in the 120fps format meant that Lee couldn't do many takes, and it's obvious that in some of these scenes he had to settle for less-than-perfect versions — although, again, shooting them over and over to perfection wouldn't have mattered in a film this bad.
Ironically, if this were a true story, the guys in Bravo Company would not be happy with the movie that's been made about them. "Billy Lynn's Long Halftime Walk" fails as satire, fails as drama, fails as spectacle, and adds up to one of the worst films of the year.
I give it a more-than-generous 2 out of 10.