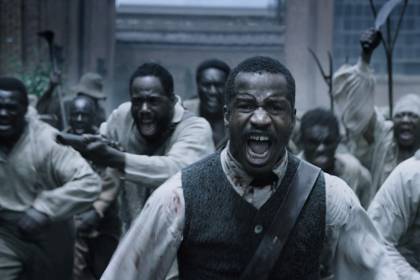 The story of the slave rebellion led by Nat Turner in 1831 has never been told onscreen. Nate Parker has never directed a feature film before — let alone one that he produced, wrote, and stars in. None of those facts gets in the way of one helluva movie.
"Birth Of A Nation" takes place in pre-Civil-War Virginia as Nat grows up as a slave, picking cotton in the fields owned by Samuel Turner. Along the way he learns to read, studies the bible, and becomes a preacher to his fellow slaves. As Samuel's plantation falls on hard times, he loans Nat out to other slave owners to preach lessons about obedience, to keep calm the humans being exploited for profit. Nat has no choice but to go along despite his revulsion at the unspeakable acts he witnesses — the aftermath of one of them, the gang-rape of Nat's wife Cherry, is so horrific that the audience in the theater let out a very loud gasp. Nat's disgust and discontent grows until he rallies other slaves to join him in striking back at their white oppressors in a bloody rebellion.
For a rookie, Parker proves himself to a remarkably talented director. The scenery looks beautiful, the performances strike just the right tone, and the supporting cast of Armie Hammer, Colman Domingo, Aunjanue Ellis, Aja Naomi King, Penelope Ann Miller — and Jackie Earle Haley as a brutal slave-catcher — are all very good.
Parker is less interested in the fight and the bloodshed of the uprising than in the instigation for it, the treatment the slaves had to endure, the indignities visited upon them. That's what makes "Birth Of A Nation" so valuable. We see the process, the inhumanity of the lives these humans in bondage were forced to endure. It's a compelling story, and Parker tells it very well.
He named the movie after the 1915 racist KKK propaganda film by DW Griffith, co-opting its title in hopes of aligning it with a different tale. Neither of them is truly about the birth of America, but mark ugly signposts in our history.
I give "Birth Of A Nation" an 8.5 out of 10.