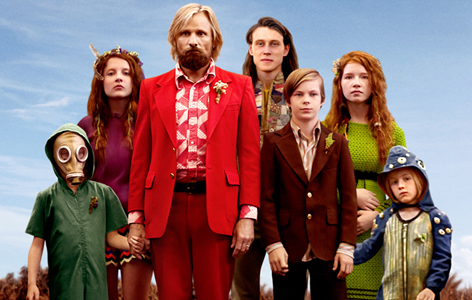 It's a terrible title. When you hear "Captain Fantastic," you think of a superhero movie, particularly because it's summer. Or, if you're of a certain age, you think of Elton John's 1975 album and expect the Brown Dirt Cowboy to come sauntering in.
What you don't think of is a movie about a family, but that's what "Captain Fantastic" is. It's not your ordinary family, though. Viggo Mortensen is terrific as Ben, the father of six kids he's raising in the woods in the Pacific Northwest. They live off the grid, killing animals for food, learning how to defend themselves, and reading books. He teaches them the philosophy of Noam Chomsky, how organized religion oppresses people, and how government should work, but doesn't. There's a thin line between what Ben's doing with his kids and any cult or militia leader you care to name, but it's clear he loves these children, and there's no doubt he's raised them to think for themselves. The child actors who play them are all very good.
Then something happens that forces Ben and his brood to enter the real world, where they are exposed to people and things they've never encountered before. It's that clash that's at the heart of the "Captain Fantastic" story, and I won't tell you much more because I don't want to ruin it except that Frank Langella is perfect as the antagonist, with Kathryn Hahn and Steve Zahn in nice supporting roles.
"Captain Fantastic" is an original and clever story, well-written and directed by Matt Ross (who you might know as Gavin Belson on HBO's "Silicon Valley"). It raises questions about parenting and grief that should spark some debate among those who see it. I strongly recommend it as one of the best movies I've seen this year, with a rating of 8.5 out of 10.