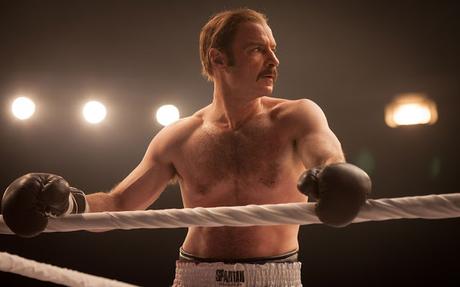 "Chuck" is the based-on-truth story of Chuck Wepner, who was plucked from obscurity in 1975 to have his 15 minutes of fame. At the time, Wepner was a liquor salesman and the best heavyweight boxer in New Jersey, where he was known as The Bayonne Bleeder for his face's tendency to gush buckets of blood whenever he got hit in the ring.
After Muhammad Ali beat George Foreman in the Rumble In The Jungle, promoter Don King decided Ali's next fight should be against a white guy, and Wepner was the only Caucasian in the top ten (he was ranked 8th in the world at the time). Wepner went fifteen rounds in the ring with Ali, losing in the end, but gaining a measure of fame he'd only dreamed of. He became the real life inspiration for "Rocky" (remember, Balboa lost to Apollo Creed in the first one) and rode his fame as hard as he could. Unfortunately, cocaine got in the way, as did Wepner's undisciplined lifestyle.
"Chuck" does a very good job of telling this story. Liev Schreiber is excellent as Wepner, as is Elizabeth Moss as his long-suffering wife Phyllis, who is supportive until he starts cheating on her. Naomi Watts is almost unrecognizable as a bartender who defines "sassy" that Chuck falls for. There's also good supporting work by Ron Perlman as Wepner's manager, Jim Gaffigan (with a lot of padding) as Chuck's best friend John who joins him in various escapades, and Michael Rapaport as Chuck's brother. Pooch Hall doesn't have much to do as Ali, but he's fine.
The boxing scenes are well shot, everyone gets the Jersey accent right, and the special effects guy makes sure lots of blood flows every time The Bleeder gets hit. There are even scenes with Stallone (Morgan Spector) happy to see Chuck and allowing him to audition to be in "Rocky 2."
My only complaint is "Chuck" relies on voiceover to fill in the exposition a little bit too often, but it's not a fatal flaw. As a boxing biopic, this is not as good as "The Fighter," but better than last year's failures of the genre, "Bleed For This" and "Hands Of Stone."
I give "Chuck" a solid 7 out of 10.