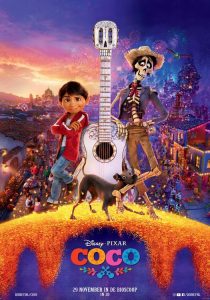 Over the last two decades, Pixar has produced some eye-popping advancements in animation, from Sully's fur in "Monsters, Inc." to the water effects in "Finding Nemo" to the memory balls in "Inside Out." Now, with "Coco," the company seems to have found a whole new palette of colors to play with on the screen.
"Coco" is the story of Miguel (Anthony Gonzalez), a Mexican boy who loves music but is forbidden to play or sing any songs by his family, because a few generations back, his great-great-grandfather abandoned his wife and daughter to pursue a career as a singer/songwriter. But Miguel idolizes Ernesto de la Cruz (Benjamin Bratt), the legendary (and dead) crooner, and wants to be like him so much that he steals de la Cruz's guitar out of his mausoleum, planning to perform with it at the talent show in the town square on Dia De Muertos, the Day Of The Dead. But when Miguel strums de la Cruz's guitar, he's transported to The Land Of The Dead, where the adventure takes off and the colors come alive.
It is there that Miguel meets some of his deceased relatives and other characters as he tries to find de la Cruz so he can get his blessing to become a musician like his idol. However, things don't go as Miguel planned, and he needs the assistance of Hector (Gael Garcia Bernal), who claims he knows de la Cruz very well. He'll help, but only if Miguel will take Hector's picture back to the Land Of The Living so his daughter will remember him. Those who are forgotten, Hector tells Miguel, turn into dust and drift away for ever.
That's the nice message of "Coco," which in addition to its vividly-created world, also includes several songs, including "Remember Me," which is sung by several different characters as the story unfolds. It's not as memorable as "Let It Go," the song from "Frozen" that was written by the same duo, but it's perfect for the movie's sentimental side. Although "Coco" is wrapped up a little too easily for my taste, it still tugged at my heartstrings and will for you, too.
Not surprisingly, "Coco" opened to record-breaking numbers in Mexico last weekend. Now it's America's turn, and I'll bet it will be number one here, too — ironic at a time when we have a president who has created antipathy for pretty much everyone from south of the border. Regardless, "Coco" will deservedly be a hit, even in the red states, as families look for a movie they can all watch and enjoy together.
After suffering from sequel-itis with "Cars 3" and "Finding Dory," it's nice to see Pixar get back to telling an original story while pushing the technical side, too. I give "Coco" an 8 out of 10.