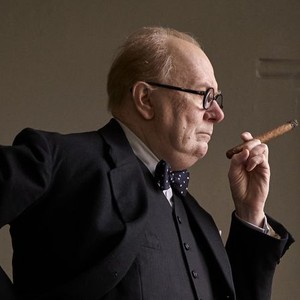 "Darkest Hour" is the third movie this year whose plot centers on the British Army being trapped on the beaches at Dunkirk by the Nazis in 1940. The first was "Their Finest," a light drama starring Gemma Atherton and Bill Nighy (my review is here). The second was "Dunkirk," Christopher Nolan's epic told from three perspectives in three different timelines (my review is here).
Now we get "Darkest Hour," with Gary Oldman as Winston Churchill in his earliest days as British Prime Minister. We've seen Churchill portrayed on screen before (both John Lithgow and Brendan Gleeson have won Emmys playing him in the last decade), but this is the best of the lot. The makeup job on Oldman is astounding, and his performance (sure to be nominated for Best Actor) is even better.
After the disastrous reign of PM Neville Chamberlain, Churchill was chosen to lead his country at a perilous time. The Germans had rolled through most of Europe with little resistance, and had trapped virtually the entire UK army at Dunkirk. Once they were wiped out, it wouldn't be long before the Nazis crossed the English Channel to attack Britain. While some in his government urged Churchill to try some sort of back-door negotiation with Hitler through Italy's Mussolini, he abhorred the idea, understanding that surrender could not be an option.
"Darkest Hour" portrays Churchill's meetings with Parliament, his war council, and King George VI during those difficult days. Unlike the action-heavy "Dunkirk," this movie is very talky, but never slow. We see Churchill portrayed not as a perfect man — he drank too much and was never in good health — but as a statesman trying to figure out how to lead his country and inspire its citizenry.
Joe Wright directs "Darkest Hour" with a keen eye for the subterranean corridors of power that Churchill must navigate, while also giving us scenes of his home life with wife, Clementine (Kristin Scott Thomas), and his meetings at Buckingham Palace with the king (played by my "Mississippi Grind" co-star, Ben Mendelsohn), whose advisers were telling him to leave the island and rule in absentia for his own safety.
The biggest flaw in "Darkest Hour" is a scene towards the end in which Churchill rides the subway with common Brits in order to get their opinion on what he should do about the Nazis. The problem is that never happened. Wright and screenwriter Anthony McCarten invented the whole thing, which is a shame, because they got the rest of the Churchill story right.
Nonetheless, you should see "Darkest Hour," primarily because of Oldman's work in the role, but also because it's yet another part of world history most Americans know far too little about.
I give "The Darkest Hour" an 8 out of 10.